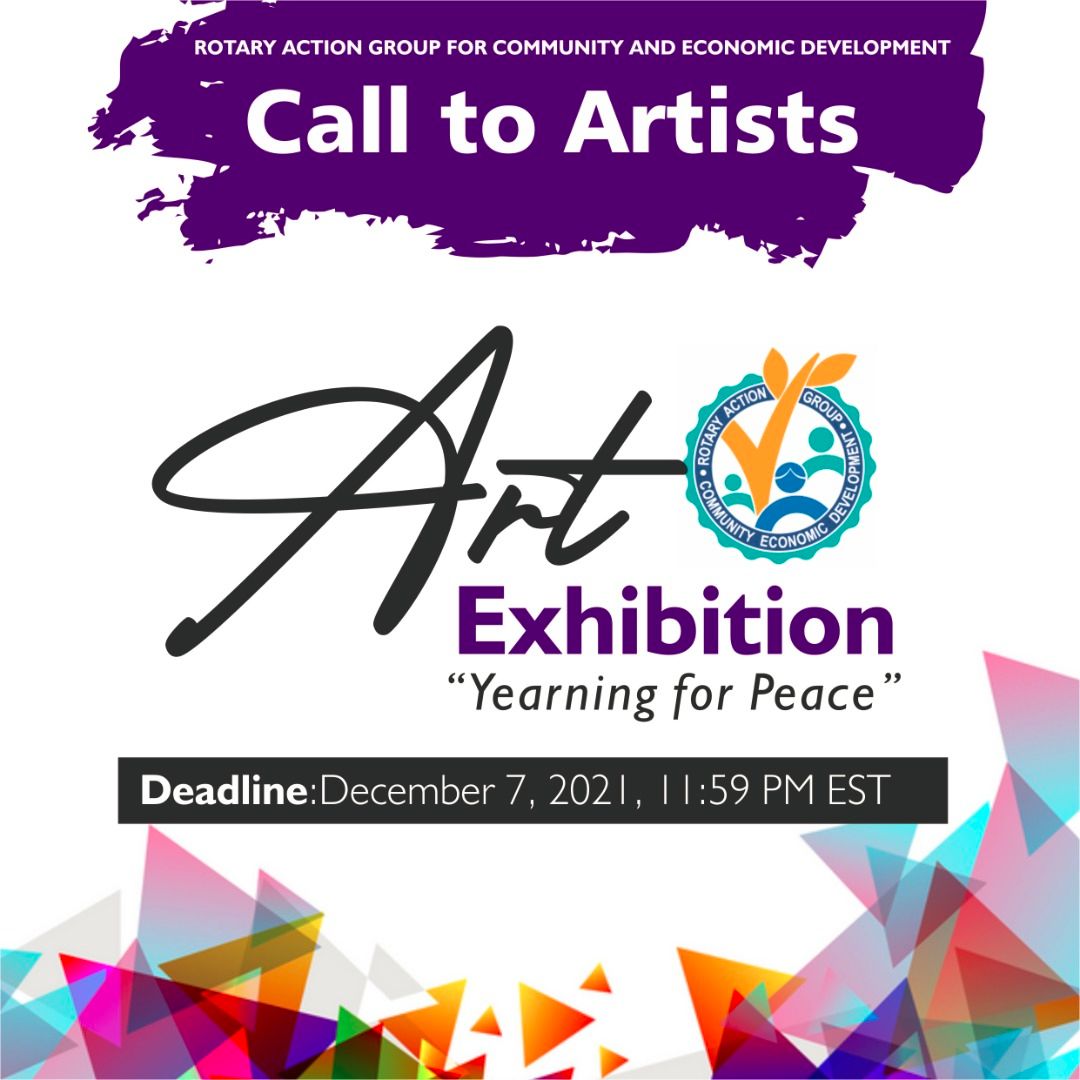 Access the Exhibit Online In:
(When the countdown ends, a link to the exhibit will appear here.)
---
Yearning for Peace is a contemporary fine art exhibition for 2D artists and sculptors.
In these times where we all need to come together and build relationships, instead of tearing each other down, we the Rotary Action Group for Community and Economic Development (RAGCED) are celebrating peace through art. We are looking for work representing a call to peace to remind each other that, 'we are not each other's enemy and together we can heal'.
We welcome 2D artwork and sculptors, that uniquely speak to this theme, and we would particularly like to be inclusive of artists from low income countries.
Special Instructions
Call Type: Online Exhibition
Deadline: December 7, 2021, 11:59 PM EST
Open to: Local and international artists
Entry Fee: $10.00 for a maximum of 5 Entries.
Eligibility: Open to all 2D Artists & Sculptors. Applicants must be at least 18 years of age.
IMPORTANT DATES:
Call Announcement: November 10, 2021
Final Submission Deadline: December 7, 2021, 11:59 PM EST
Curation/Finalization of work: December 8, 2021
Artist Bio/Conceptual Statements Due: December 9, 2021
Auction Dates: 11 December 2021 08:00 AM -11:59 PM EST
IMAGE USE & COPYRIGHTS
The artist retains all copyrights to submitted images and represented artwork. Digital images submitted with the artist's entry are for exhibition only. Artists grant RAGCED the right to use image(s) on printed materials and their website for promotional purposes only. RAGCED retains no copyrights to the artist's work.
COMMISSIONS & SALES
RAGCED will retain a 40% commission on any art sold during the auction.
SHIPPED ARTWORK
After the auction is concluded.
The buyer is responsible for shipment payment, including any importation taxes where relevant; they are also responsible for insuring the artwork. The artist is responsible for payment of taxes relevant to them, facilitating shipment of the art work and making sure it is properly packaged in accordance to the agreement between themselves and the buyer.
Contact us if you need assistance with the above; we will gladly provide this through our international network of Rotary Clubs that exist in every country.
Important Dates
Call Announcement: Wednesday November 10, 2021
Final Submission Deadline: Tuesday December 7, 2021 @ 11:59 PM EST
Curation/Finalization of work: Wednesday November 8, 2021
Auction Dates: Saturday 11 December 2021, 0800AM - 11:59 PM EST
Curators
Jose Gomez
Kudzai Nyengerai
Important Dates
Submission Deadline: Monday, December 06, 2021 @ 11:59 PM
Curation By: Tuesday, December 07, 2021 @ 11:59 PM
Event On: Saturday, December 11, 2021 @ 8:00 AM