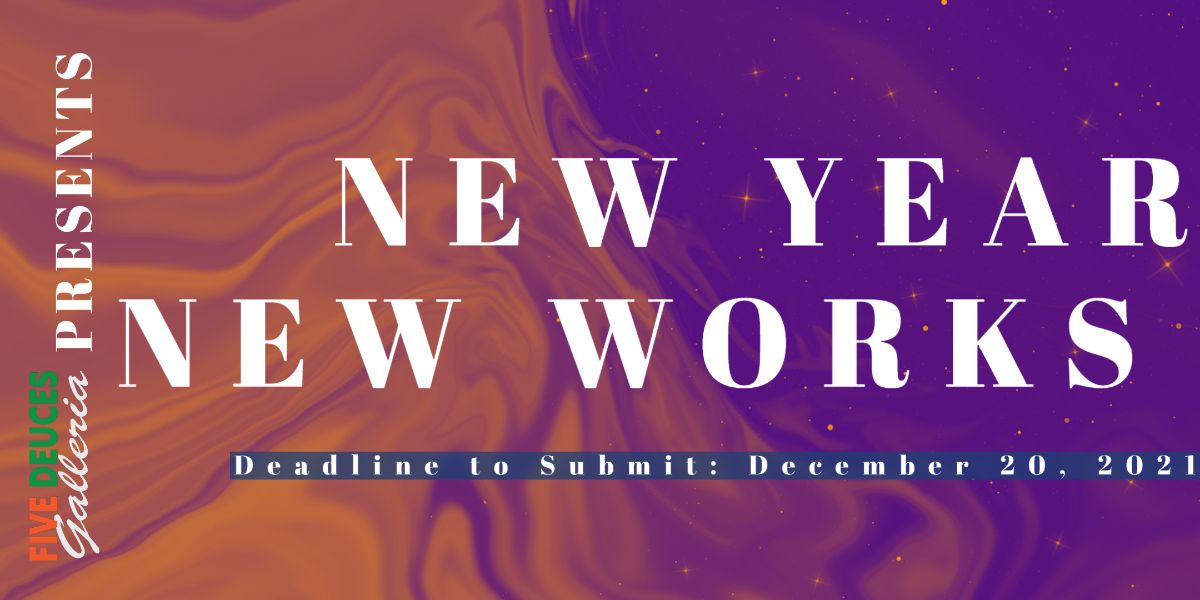 Access the Exhibit Online In:
(When the countdown ends, a link to the exhibit will appear here.)
---
With COVID finally moving behind us, 2021 was a year of coming out of our homes, re-engaging with people, and starting over. It was about new beginnings, new perspectives, and new work. Our January 2022 gallery show is a chance to show the community what it meant to you, what evolved in you during this time, and how it is reflected in your artwork.
All work submitted should be from 2020 or 2021 and reflect a new style, perspective, or evolution of your work.
Special Instructions
Submission Deadline: Monday, December 20, 2021
We are using CloudFolios to assist in curating the show. If you don't already have an account, you will need to create one (free) at www.cloudfolios.com then return to this email and click on the link below to apply to the show.
SUBMIT YOUR WORK HERE: New Year / New Works by Five Deuces Galleria
LEARN MORE: New Year / New Works by Five Deuces Galleria
CALL TYPE: Month Long Gallery Exhibition
SUBMISSION DEADLINE: Monday, December 20, 2021
OPEN TO: All artists who can arrange for a local drop off
LOCATION: 2101 3rd Ave S., St. Petersburg, FL 33712
ENTRY FEE: $20.00 for a maximum of 10 entries. All submissions will be curated by Five Deuces Galleria, selecting up to 10 of the submitted pieces per entrant.
ELIGIBILITY: Open to all 2D & 3D mediums of art by artists who can coordinate a local drop off & pick up of any unsold work.
SUBMIT YOUR ART HERE: New Year / New Works by Five Deuces Galleria
IMPORTANT DATES:
Final Submission Deadline: Monday, December 20, 2021, 11:59pm EST

Curation/Finalization of work: Thursday, December 23, 2021

Artist Conceptual Statements Due: Sunday, January 2, 2022

Work drop off: January 3 & 4, 2022, 11:00am-3:00pm EST

St. Pete ArtWalk: Saturday, January 8, 5:00pm - 9:00pm EST

Artist Reception & Event: Saturday, January 15, 2022, 6:00pm-9:00pm EST

Exhibition Duration: January 8 - January 30, 2022

Work pick-up: Monday, January 31, 2022 11:00am-3:00pm EST
The gallery also will be open for other special events throughout the month, to be announced at a later date. In addition, the gallery is open to visitors most weekdays from 11am-4pm.
IMAGE USE & COPYRIGHTS
The artist retains all copyrights to submitted images and represented artwork. Digital images submitted with the artist's entry are for exhibition selection only. Artists selected to exhibit grant Five Deuces Galleria the right to use the selected image(s) on printed materials, social media, and the gallery website for promotional purposes only. Five Deuces Galleria retains no copyrights to the artist's work.
COMMISSIONS & SALES
Five Deuces Galleria will retain a 30% commission on any sold work in the gallery during its exhibition run All sales of the displayed artwork will be processed by the gallery, regardless of whether it is an in-person or offline sale. Payment processing fees will be deducted from artist payout, when applicable.
Any artwork that is sold during the exhibition may be taken by the buyer immediately after purchase. The artist may replace the sold artwork with approval from the curators.
SHIPPED ARTWORK
We cannot accept shipped artwork at this time.
GALLERY CONTACT INFORMATION
2101 3rd Ave S., St. Petersburg, FL 33712
Email: fivedeucesgalleria@gmail.com
Facebook: @fivedeucesgalleria
Instagram: @fivedeucesgalleria
Five Deuces Galleria is grateful for your participation and recognizes your hard work and creativity. I thank you in advance for your art submissions, for your interest in our exhibition, and for contributing to the world of art.
If you have any questions, comments, or concerns, please email me at fivedeucesgalleria@gmail.com
Have a great day!
Curators
Julie Haura
Geoffrey Baris
Important Dates
Submission Deadline: Monday, December 20, 2021 @ 11:59 PM
Curation By: Wednesday, December 22, 2021 @ 11:59 PM
Event On: Saturday, January 08, 2022 @ 6:00 PM