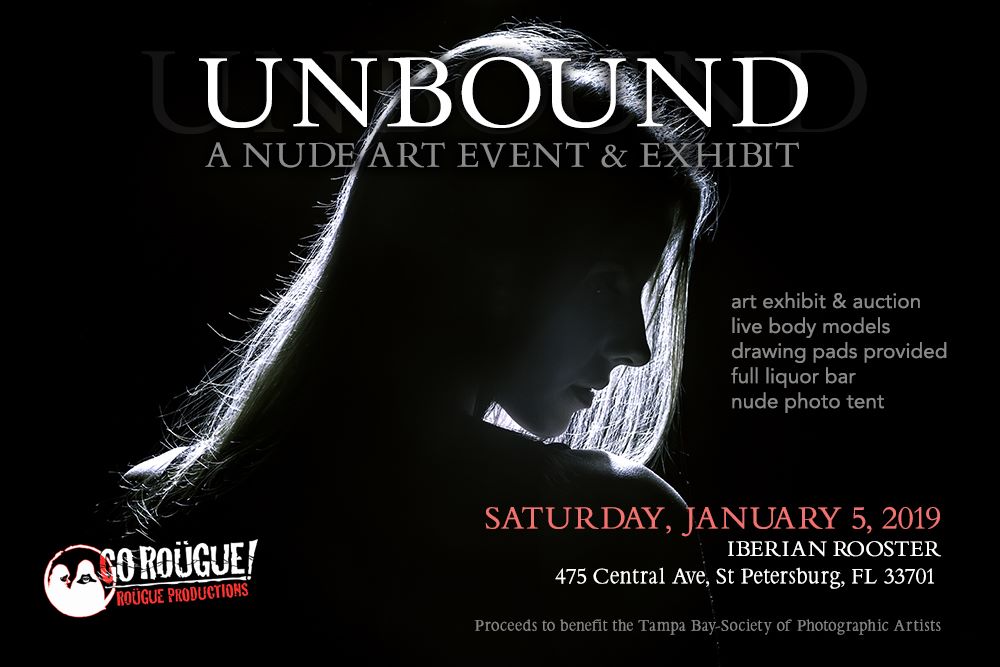 We invite you to submit your artwork for consideration for our exhibit at Iberian Rooster in St Petersburg, FL called Unbound, a Rougue Productions event. We are choosing up to 36 works of art across all visual art mediums that will be exhibited three at a time on stage, allow for artists to explain their pieces and for attendees to bid on the artwork. We will also have several body form models present and attendees will be given drawing pads and penciles to draw them for their own private collections. A nude tent will also be featured in the back of the venue for adventurous attendees who want to have their photos taken by one of the photographic artists present. A portion of the proceeds from this event will be donated to the Tampa Bay Society of Photographic Artists.
Please note that all submissions must contain a human nude form. They will be displayed by easel, then hung using a nail and wire system. Due to the short timeframe our call, there is no fee for submission to this exhibit. Art will remain on exhibit at the venue for a month. Also, please only submit art that is ALREADY ready for exhibition as the curation will occur only 3 days before the event, which may not give you time to properly prepare your artwork.
Submission Deadline Extended to January 4, 12am!
Curators
Important Dates
Event Date: Saturday, January 05, 2019 @ 7:00 PM
Art Submissions Closed