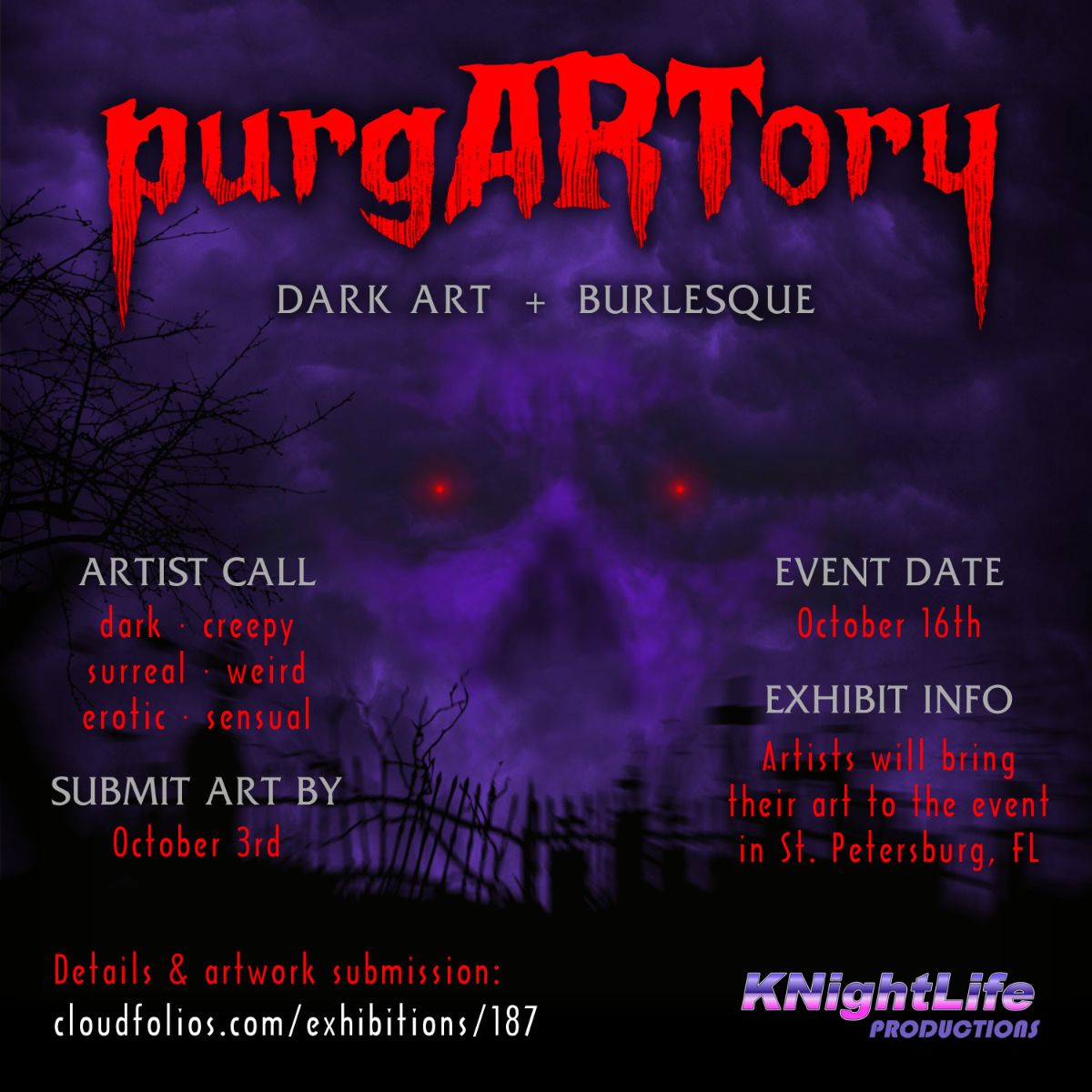 purgARTory is a pop-up event that celebrates all things unsettling and undead. Event is Saturday, October 16th at Coastal Creative and the evening includes an art exhibit, a horror burlesque show hosted by Alistair Graves, and a variety of performances that will make your skin crawl. We invite you to creep with us.
Artists will have a space to make their own, consisting of horizontal wall space to facilitate the work displayed (4' minimum), vertical wall space from floor to ceiling, and 6' of floor space in front of the wall. Most walls are drywall but some are block, so an alternative method (grid, panel, etc) of displaying hanging work may be necessary, and can not be provided. Painting walls is not allowed, but any other non-destructive decorations that reflect personal style (and the dark season) are encouraged. Floor is concrete.
Exhibiting artists will:
receive 2 complimentary entry tickets (public door charge is $25)
arrive at the venue after 2pm
have their artwork on display by 4pm (the public will be let in at 5pm)
remove their work by midnight (starting at close of show at 11pm)
ARTWORK SUBMISSION:
Open to all 2D & 3D mediums of visual art, including prints on canvas/metal/acrylic. Dark and/or erotic themes are preferred for this seasonal show and "family-friendly" artwork is discouraged. Final work must not exceed 40 inches wide. Applicants must be at least 18 years of age.
Fee is $25 for up to 8 works and each artist can only submit one time, so send as many as possible and be sure all information and images are correct and final before hitting the SUBMIT button.
OTHER WORK:
In addition to the accepted work, multi-media/digital work may be brought for display, and prints may be brought for sale, as long as everything fits within the allotted space (final dimensions based on number of artists ... see above).
IMAGE USE & COPYRIGHTS:
The artist retains all copyrights to submitted images and represented artwork. Digital images submitted with the artist's entry are for exhibition selection only. Artists selected to exhibit grant KNightLife Productions the right to use the selected image(s) on printed materials and digital images for promotional purposes only. KNightLife Productions retains no copyrights to the artist's work.
COMMISIONS & SALES:
KNightLife Productions will not retain a commission on sold work. Artist is responsible for all sales, sales equipment, and taxes.
For questions and additional info, please visit the event facebook page at: facebook.com/KNightLifeArts
Curators
Zachary Knight
Sheba Queen of the Night
Important Dates
Event Date: Saturday, October 16, 2021 @ 5:00 PM
Art Submissions Closed