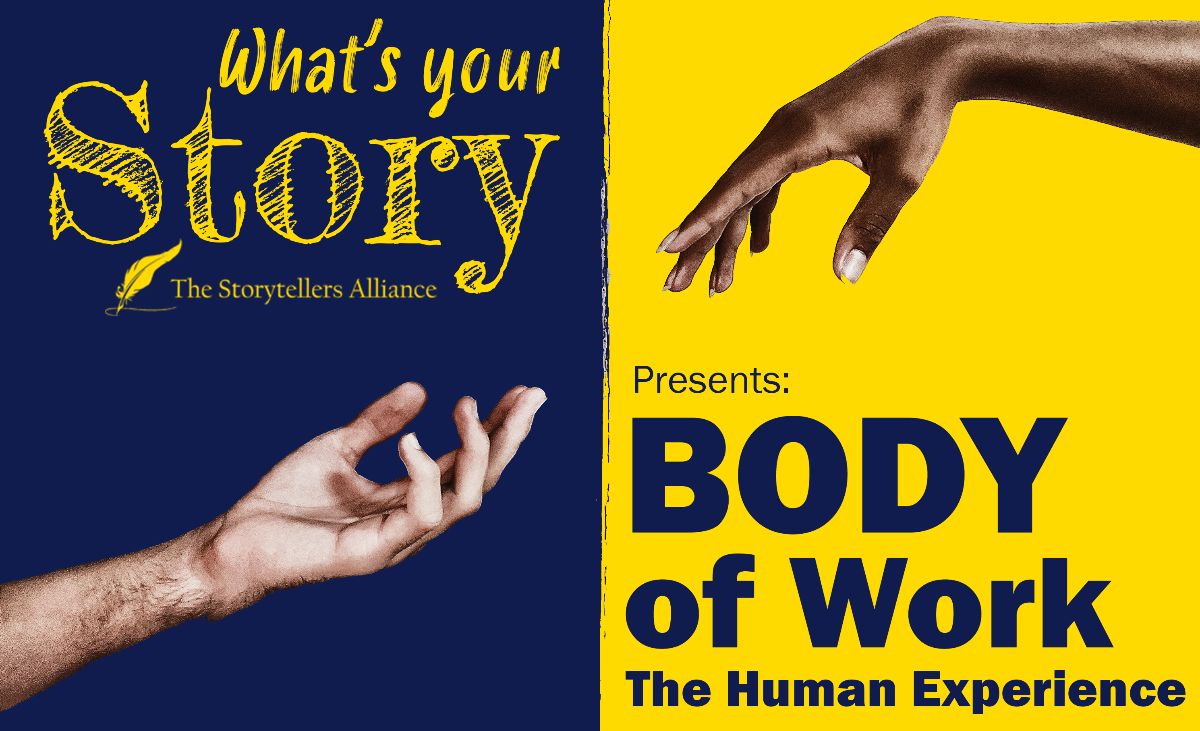 The Storytellers Alliance presents:
WHAT'S YOUR STORY
A creative anthology of YOUR stories.
Real people. Real life.
Everyone has a story … what's yours?
What's Your Story is now accepting original visual art submissions for: BODY OF WORK
What is it to live the human experience?
We form our worlds, inside and out, through sensorial amalgamation and interpretation, where the human body is capable of feeling physical, emotional, spiritual, and mental stimuli, while each individual experience of those sensations is unique from another. In terms of wellness, some view the human experience as having seven dimensions: physical, emotional, intellectual, social, spiritual, environmental, and occupational. Coincidentally, within each of us also exist the seven chakras, which when blocked, can disrupt your qi (or chi)—your energy life force—along with the balance and harmony between the physical mind, body, and spirit.
So, we invite you to share that which is your human experience and BODY OF WORK …
Send us your best visual portrayal of the human experience. Some ideas could be the experience of living with a disability, mental health, emotional trauma, the joys and anguish of being a parent, falling in love, losing a loved one, sex and sexuality, or anything else that relates to the overall human experience.
The Storytellers Alliance wants to encourage you to keep creating and using expressive arts as a pathway to healing. What's Your Story was designed to be a platform to provide you the opportunity to share your own voice and unique perspective through visual storytelling.
These are YOUR stories, YOUR perspective, YOUR visions, and YOUR experiences.
Factors considered for publication will be adherence to guidelines, artistic originality, craftsmanship, and excellence. Submissions can be visual works by emerging or established artists.
Special Instructions
Deadline to submit: July 14, 2022 @ 11:59pm EST
Call Type: Online Juried Exhibit
Open to: Local, Regional, National & International Artists
State/City/Country: Tampa, Florida, USA
Entry Fee: $10.00 for a maximum of 10 works
Eligibility: Open to all mediums of fine art with the exception of installation, audio & video work. Applicants must be at least 18 years of age to submit.
SUBMISSION GUIDELINES:
What you submit will be what gets displayed in the virtual exhibit (if selected). Please adhere to the following guidelines:
image must be clear with good lighting
background must be cropped from around image (no countertops, clutter, people, pets, etc in background)
one piece per image; you can submit up to (10) pieces per submission, however, each image must only be of only (1) work
each piece must be submitted with appropriate portrait or landscape orientation
IMPORTANT DATES:
Curation/Finalization of work: July 22, 2022 (This date is always subject to change. Artists will be notified of acceptance and or rejection via email.)
Exhibit Opens: Fri, July 29, 2022 @ 12:00pm EST
Exhibit Closes: July 30, 2022 @ 12:00pm EST
EXHIBIT LOGISTICS
This gallery will be completely virtual. The benefit is that you won't be responsible for packing and sending your pieces for display, and you'll be able to create a free online portfolio and share your work with a larger audience.
The virtual exhibit goes live for the period listed and will have visitors mostly that day for viewing, commenting, and purchasing. However, once the live event has ended, the gallery will still be online for months after. You, as the artist, will also have the opportunity to engage with visitors and respond to comments on your pieces.

IMAGE USE & COPYRIGHTS
The artist retains all copyrights to submitted images and represented artwork. Artists selected for online exhibit grant The Storytellers Alliance, LLC the right to use the selected image(s) on printed materials, website, and/or social media for promotional purposes only. The Storytellers Alliance retains no copyrights to the artist's work.
COMMISSIONS & SALES
The Storytellers Alliance will retain a 10% commission on any work sold in the virtual gallery during its exhibition run.
SHIPPED ARTWORK
For any works sold, it is the responsibility of the artist to print any digital works and to properly package and ship the piece to the buyer.
FREQUENTLY ASKED QUESTIONS
Cloudfolios is a platform we use to publish our art calls. Artists submitting their work for consideration will be doing so through the Cloudfolios system.
How and when will I know if I've been accepted?
Every artist who submitted their work for consideration will be notified by email. Once the work is finalized, an email is sent to the artists automatically by the Cloudfolios system (the same system the artist used to submit). This email will let the artists know which works were accepted and which works were rejected. If you do not receive an email within a couple of days after the curation date, please double check your spam folder and or contact us at: contact@thestorytellersalliance.com.
What happens and or what do I do after I am accepted?
Accepted artists can expect a follow-up email with additional details for viewing and sharing your work in our virtual gallery.
How and when do I submit my biography and conceptual statements?
Accepted artists will be notified via email. Artist Biography and Conceptual statements must be prepared to submit upon notification of acceptance.
Why are audio and video art not allowed?
We apologize for this exclusion. At this time, our virtual gallery is not equipped to exhibit these particular mediums of art. We hope to change this in the future.
How much is it to submit and are there any other fees during the submission process?
The submission fee is $10.00 to submit up to ten (10) works per entry. One (1) entry per artist. Only if your piece sells, does The Storytellers Alliance retain 10% of the sales price.
Please Note: The Cloudfolios system will charge you a 10% processing fee. That means that the submission will cost you a total of $11.00. The additional $1.00 processing fee does not go to The Storytellers Alliance. This fee goes to CloudFolios™ Inc - which is a separate company. We simply utilize the Cloudfolios software.
If my work was entirely rejected, can I inquire to know why?
Yes, you may. Please email us at: contact@thestorytellersalliance.com
Curators
Miquela Gonzalez
Jennifer Harman
Important Dates
Event Date: Friday, July 29, 2022 @ 12:00 PM
Art Submissions Closed