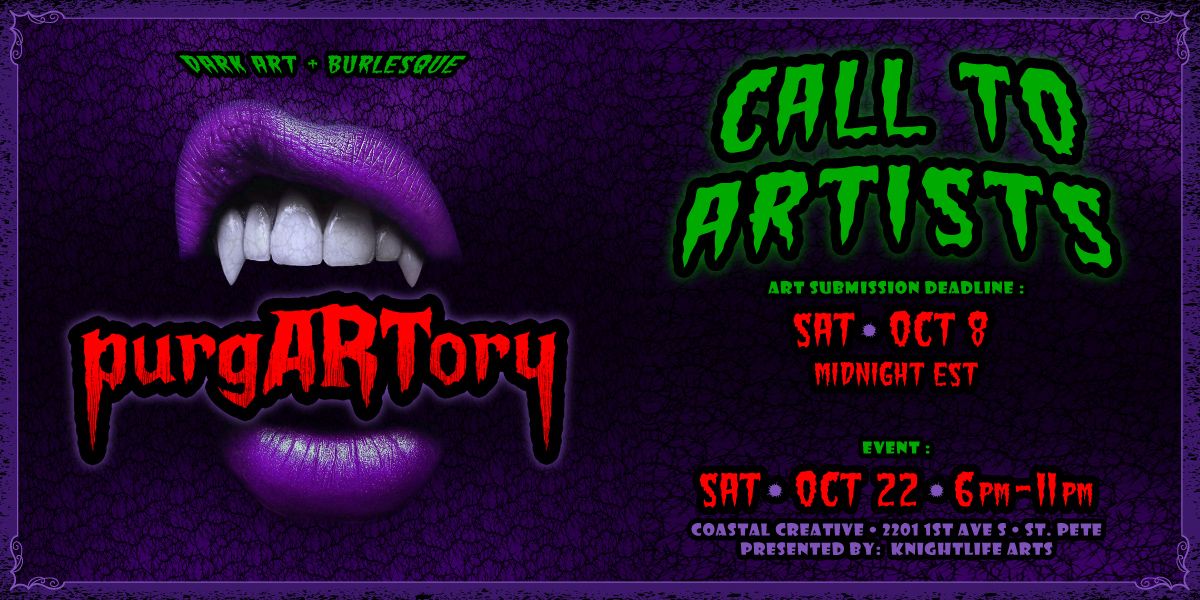 purgARTory is a pop-up event that celebrates all things unsettling and undead. The evening includes an art exhibit, a horror burlesque show, and a variety of performances that will make your skin crawl. We invite you to creep with us.
Event is Saturday, October 22nd at Coastal Creative in St. Pete, from 6p to 11pm.
(These are the hours for the public. Artist hours are 3p to midnight.)
Special Instructions
***** IMPORTANT *****
This is an indoor, market-style show. Artists must set up, stay, and break down.
***********************
Open to all 2D & 3D mediums of visual art (including prints on canvas/metal/acrylic) with the exception of installation art. Only submit finished artwork. Applicants must be at least 18 years of age.
Dark/Horror/Sensual/Erotic/Surreal/Psychedelic themes for this show. If it can hang in a Bob Evans it will not be accepted.
ALL ARTWORK AT THE SHOW MUST BE FINISHED AND PROFESSIONALLY PRESENTED.
Submission fee is $25 for up to 10 works. Exhibiting artists do not pay the door charge ($25) and no commissions are retained.
Artists will arrive at the venue after 3pm and have their artwork on display by 5pm and handle their sales until event closing. The public will be let in at 6pm. The event will close at 11pm, at which time artists will remove their work by midnight.
Helpers/guests will require a ticket if staying after 5pm for the event.
Artitsts will have 6-10 feet of wall space, depending on the art. The venue does not allow any new holes in the walls, so artists are responsible for displaying their artwork using Command(tm) hooks, grids, panels, easels, tables, etc. There are existing nails/screws/holes that can also be utilized.
Each artist can only submit one time, so send as many as possible and be sure all information and images are correct and final before hitting the SUBMIT button.

OTHER WORK:
In addition to the accepted work, multi-media/digital work may be brought for display, and prints may be brought for sale, as long as everything is on-theme and fits within your allotted space.

IMAGE USE & COPYRIGHTS:
The artist retains all copyrights to submitted images and represented artwork. Digital images submitted with the artist's entry are for exhibition selection only. Artists selected to exhibit grant KNightLife Productions the right to use the selected image(s) on printed materials and digital images for promotional purposes only. KNightLife Productions retains no copyrights to the artist's work.

COMMISIONS & SALES:
KNightLife Productions will not retain a commission on sold work. Artist is responsible for all sales, sales equipment, and taxes.

INFO:
For questions and additional info, please visit the event page at:
facebook.com/events/447894400637147
Event By KNightLife Arts:
facebook.com/KNightLifeArts
#darkart #horror
#eroticart #surrealart #fantasyart
#stpeteart #tampabayart
#KNightLife #KNightLifeEvents #purgARTory
Curators
Zachary Knight
Sheba Queen of the Night
Important Dates
Event Date: Saturday, October 22, 2022 @ 6:00 PM
Art Submissions Closed