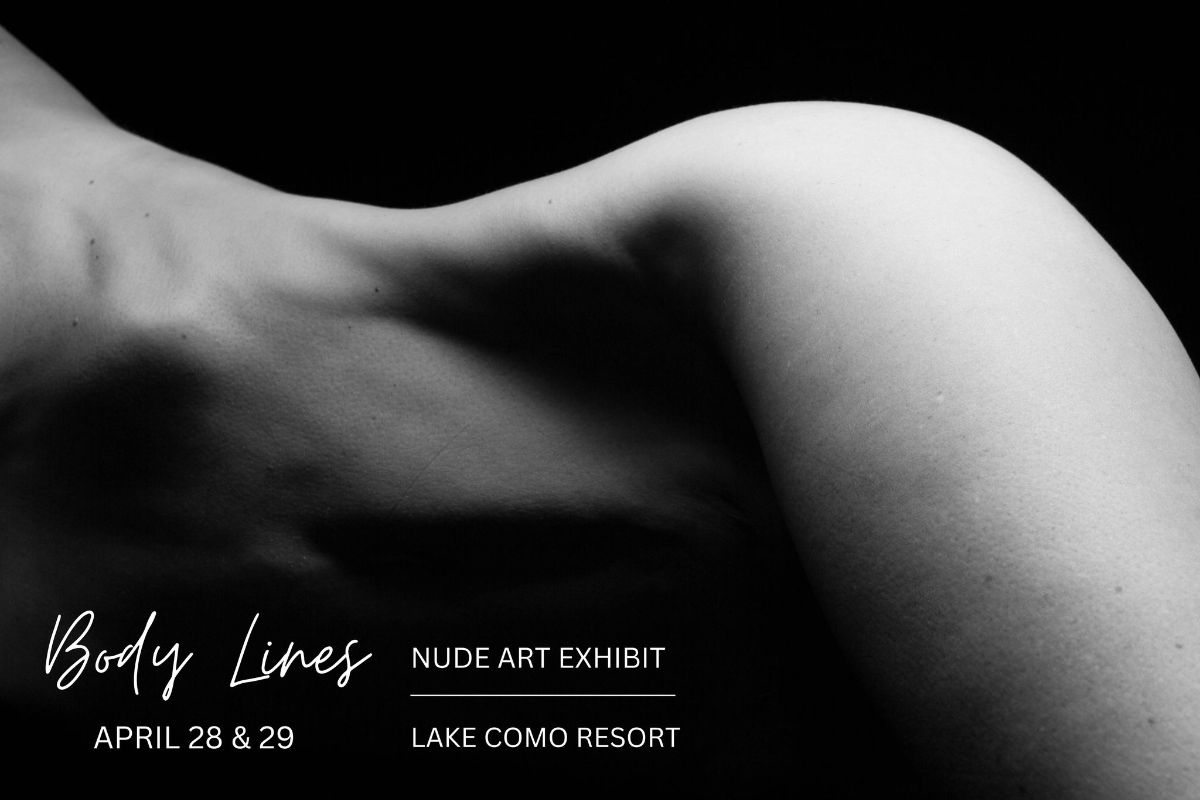 Body Lines is a two-day nude art exhibit that showcases the beauty and diversity of the human form through various mediums, including painting, sculpture, and live entertainment. The exhibit will take place on April 28 and 29, 2023, at the picturesque Lake Como nudist resort, and is open to artists of all mediums.
Visitors can expect to see a range of stunning artworks that celebrate the naked body in all its glory, including live body painting demonstrations and a mesmerizing silk aerialist performance. The exhibit will also feature a fully stocked bar with plenty of wine and spirits to enjoy while taking in the art.
This exhibit is a celebration of the human body and the creative talents of the participating artists. Don't miss this unique opportunity to see art and entertainment in a whole new light.
Note to submitting artists: Please note that Lake Como is a family-friendly nudist resort. This exhibition will not include erotica, kink, or images depicting penetration or overt sexuality.
Special Instructions
Call Type: 2-Day Popup Exhibition
Deadline: March 31, 2023, 11:59 PM EST
Open to: Local Artists are welcome to submit
State/City: Lutz, Florida
Entry Fee: $20.00 for a maximum of 10 Entries.
Eligibility: Open to all mediums of art with the exception of audio and video art. Applicants must be at least 18 years of age. Final work must not exceed 40x40 inches.
Details
Curation/Finalization of work: April 8, 2023 (Please note that this date is always subject to change. Regardless, artists will be notified of acceptance and or rejection via email.)
Artist Biography & Conceptual statements Due: April 20, 2023 (For those accepted only. Instructions will come via email.)
Work drop off: April 28, 2023 10am EST
No shipped work will be accepted.
Opening Reception / Party: April 28, 2023, 6pm - 10pm EST
Exhibition Ends: April 29, 2023, midnight
Work pick-up: April 29, 2023, 11pm
IMAGE USE & COPYRIGHTS
The artist retains all copyrights to submitted images and represented artwork. Digital images submitted with the artist's entry are for exhibition selection only. Artists selected to exhibit grant Betty Studios, Inc. the right to use the selected image(s) on printed materials and the promotional website for promotional purposes only. Betty Studios, Inc. retains no copyrights to the artist's work.
COMMISSIONS & SALES
Betty Studios, Inc. will retain a 35% commission on any sold work in the gallery during its exhibition run.
SHIPPED ARTWORK
The artist is responsible for insuring and properly packaging their work. A return shipping label must be pre-purchased and provided to us. Please direct any immediate questions, comments, or concerns to bodaciousbetties@gmail.com
FREQUENTLY ASKED QUESTIONS
What is Cloudfolios?
Cloudfolios is a platform we use to publish our art calls. Artists submitting their work for consideration will be doing so through the Cloudfolios system.
How and when will I know if I've been accepted?
Every artist who submitted their work for consideration will be notified by email. Once the work is finalized, an email is sent to the artists automatically by the Cloudfolios system (the same system the artist used to submit). This email will let the artists know which works were accepted and which works were rejected. If you do not receive an email within a couple of days, please double check your spam folder and or contact us at: bodaciousbetties@gmail.com.
What happens and or what do I do after I am accepted?
Accepted artists can expect a follow-up email directly from the gallery congratulating them on their acceptance as well as a very detailed PDF with their exhibiting details.
How and when do I submit my biography and conceptual statements?
Artists will be given detailed instructions through their exhibiting details PDF on how to submit their statements. This requirement only applies to artists who are accepted.
Why is installation, audio, and video art not allowed?
We apologize for this exclusion. Our gallery at this time is not equipped to exhibit these particular mediums of art. We hope to change this in the future.
How much is it to submit and are there any other fees during the submission process?
For this particular exhibition, the entry fee is $20.00 for a maximum of 10 works that you can submit. Meaning, for $20.00, you will be able to submit 10 individual works of art. The Cloudfolios system will charge you a 10% processing fee. That means that the submission will cost you a total of $22.00. The gallery DOES NOT charge you a 10% processing fee. The additional $2.00 charged does not go to the gallery. It goes to CloudFolios™ Inc - which is a separate company. We simply utilize the Cloudfolios software.
If my work was entirely rejected, can I inquire to know why?
Yes, you may. Please email us at: bodaciousbetties@gmail.com
Curators
Important Dates
Event Date: Friday, April 28, 2023 @ 6:00 PM
Art Submissions Closed