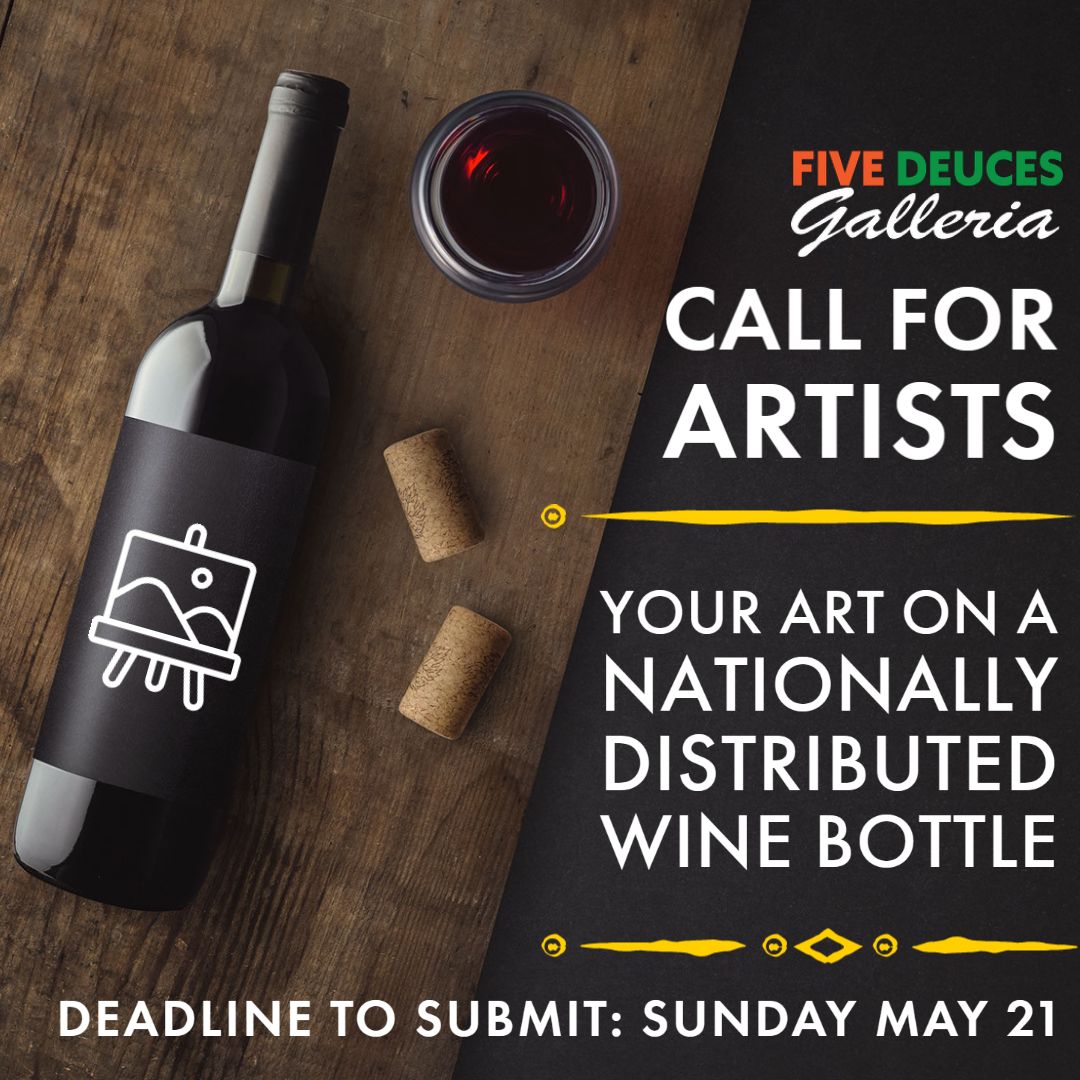 CALL FOR SUBMISSIONS: Wine Bottle Label Original Art
Five Deuces Galleria proudly presents a unique opportunity for you to LAND YOUR ART ON A NATIONALLY DISTRIBUTED WINE BOTTLE. Our call for submissions is open nationwide to all themes, ideas, styles and genres. Original paintings, digital art, photography, and beyond are all welcome.
Angels Share Wine Imports will select up to 5 art works for their labels. This family owned local wine distributor is using Lake County and Napa Valley grapes to create and distribute a new brand of red wines in several varieties: cabernet, zinfandel, merlot, petit syrah, and a red blend. This wine will be distributed to restaurants and retail in Florida, New York, New Jersey, and the US Virgin Islands. The wine retails for roughly $25/ bottle,and the reserve retails for roughly $70
AWARD
The artist for each selected label will receive $200

Two cases (24 bottles) of wine with their artwork on the label

The opportunity to have their artwork and their direct contact information (most likely a social media handle) on the wine bottle label

Marketing and promotion of the artist on the wine distributors website, including an artist bio
ELIGIBILITY:
Open nationwide (US only) to all mediums of original art

Submitted art needs to be oriented for a wine bottle, and therefore should be more vertical than horizontal.

Artists of selected work must be able to provide a high quality image of their work upon acceptance.

Artists must be willing to hand sign a selection of the wine bottles
SUBMISSION DEADLINE: Sunday, May 21, 2023 11:59pm
We are using CloudFolios to assist in curating the show. If you don't already have an account, you can set one up (free) during the submission process.
SUBMIT YOUR WORK HERE: SUBMIT YOUR WORK. Please note, the images you submit with your work are 1) the primary tool the curators use to evaluate, accept, or reject a piece and 2) the same images the marketing team will use in promotional materials for accepted work. While the images do not have to be perfect by a hired professional, unsatisfactory images will affect the curating.
LEARN MORE: https://www.cloudfolios.com/exhibitions/278
CALL TYPE: Art submission and selection only. There will not be a physical exhibit or online exhibit.
OPEN TO: All artists nationwide
ENTRY FEE: $10 for a maximum of 5 entries. All submissions will be curated by Five Deuces Galleria and the wine distributor, selecting up to 5 overall. This fee is non-refundable.
IMPORTANT DATES:
Final Submission Deadline: Sunday, May 21, 2023, 11:59pm EST

Curation/Finalization of Work: Sunday, May 28, 2023 (subject to change). Artists will be notified of acceptance and or rejection via email.
EXPECTATIONS FOR ARTISTS SUBMITTED + ACCEPTED WORK:
If you have any additions / changes / deletions for work after you submit for this call, you can make changes up until the call closes. Please contact me directly at FiveDeucesGalleria@gmail.com, and I will re-open your submission. The system will not charge you again.
IMAGE USE & COPYRIGHTS
The artist will retain the copyright to their image, however the wine distributor will have the right to use it and profit from it as they see fit for marketing and promotion purposes.
GALLERY CONTACT INFORMATION
2101 3rd Ave S., St. Petersburg, FL 33712
Email: fivedeucesgalleria@gmail.com
Facebook: @fivedeucesgalleria
Instagram: @fivedeucesgalleria
Five Deuces Galleria and Angels Share Wine Imports are grateful for your participation and recognize your hard work and creativity. We thank you in advance for your art submissions, for your interest in our exhibition, and for contributing to the world of art.
If you have any questions, comments, or concerns, please email me at fivedeucesgalleria@gmail.com
Special Instructions
FREQUENTLY ASKED QUESTIONS
What is Cloudfolios?
Cloudfolios is a platform we use to publish our art calls. Artists submitting their work for consideration will be doing so through the Cloudfolios system.
How and when will I know if I've been accepted?
Every artist who submitted their work for consideration will be notified by email. Once the work is finalized, an email is sent to the artists automatically by the Cloudfolios system (the same system the artist used to submit). This email will let the artists know which works were accepted and which works were rejected. If you do not receive an email within a couple of days, please double check your spam folder.
What happens and or what do I do after I am accepted?
Accepted artists can expect a follow-up email directly from the gallery congratulating them on their acceptance as well as very detailed instructions with their exhibiting details.
How and when do I submit my biography and conceptual statements?
Artists will be given detailed instructions through their exhibiting details on how to submit their statements. This requirement only applies to artists who are accepted.
Why is installation, audio, and video art not allowed?
We apologize for this exclusion. Our gallery at this time is not equipped to exhibit these particular mediums of art. We hope to change this in the future.
If I submitted my work and I forgot to include other work, can my submission/application be reopened and can I add it?
Yes, you may. Please email us at: FiveDeucesGalleria@gmail.com
If my work was entirely rejected, can I inquire to know why?
Yes, you may. Please email us at: FiveDeucesGalleria@gmail.com
Curators
Julie Haura
Geoffrey Baris
Gerome Tate
Important Dates
Event Date: Monday, May 22, 2023 @ 12:00 AM
Art Submissions Closed