CloudFolios Enables Artists, Art Galleries, and Museums to Launch Live Virtual Art Exhibits Amidst Coronavirus Shutdowns
Published on Thursday, June 11, 2020 by CloudFolios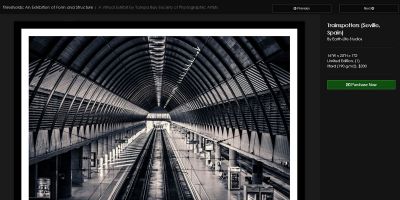 Tampa, FL – Online art and exhibit management software provider CloudFolios has announced the launch of its new virtual art exhibit technology, called CloudExhibit™ - enabling artists, art galleries, and museums to host live online exhibits as they experience complete shutdown of their physical presence for months. The technology not only addresses the need for exhibition of art, but also of live feedback, sales, and interaction between art fans, critics, buyers, artists, and the institutions hosting the exhibits. With the cancellation of exhibits and art shows globally, this technology allows art professionals the tools they need to showcase and sell art online more than ever before.
"Our CloudExhibit™ technology is much different from the typical thumbnail galleries and clunky VR walls that visitors must download apps to view," said CloudFolios CEO, Jose Gomez. "Our technology leverages the space you have in a computer or tablet browser and delivers crisp images of the artwork with all the information visitors need to learn about the art, comment, interact, and even purchase immediately."
CloudFolios' CloudExhibit™ technology works for art organizations seeking to host exhibits as well as for artists looking to host their own solo shows. In fact, the technology allows for any individual with an idea for an exhibit to create an event, create online calls for submission, curate using a single curator or a group, and publish a CloudExhibit™ all within its software.
CloudFolios will be launching its first CloudExhibit™, Thresholds: An Exhibition of Form and Structure, for the public on June 18, 2020 from 7pm to 10pm EST. The exhibit will feature photographic interpretations of architecture from around the world. Artists featured in this exhibit include Cindy Eccles, Jennifer Lukas, Jim Miller, Mark Rodriguez, Michael Sheehan, Michael Trefry, and Ron Weiss. The works contained in the exhibit were solicited and curated by the Tampa Bay Society of Photographic Artists (TBSoPA).
The CloudExhibit™ can be accessed during the opening hours at:
https://www.cloudfolios.com/exhibitions/121
After the exhibit closes at 10pm ET, the live components of the exhibit will be closed, but visitors can still view the artwork perpetually within the CloudExhibit™ space.
About CloudFolios
CloudFolios was created to help artists manage and organize every facet of their artistic career and business with ease. The platform provides artists and art collectors with art and career cataloging tools, online sales and promotion services while providing art organizations with online automation tools for managing calls to artists, group curation, and exhibits.
About the Tampa Bay Society of Photographic Artists
The mission of TBSoPA is to develop fine art photography in the Tampa Bay area through collaboration, education, and exhibition. Working together with talented photographers around Tampa Bay, TBSoPA creates a permanent footprint and mark this moment in history with our creativity, skill, and unique perspectives. TBSoPA is a nonprofit corporation in the State of Florida. Its artist build relationships together through their mutual interest to collaborate in unity and an entrepreneurial spirit.
For More Information
Jose Gomez, Jr. - CEO, CloudFolios
(813) 441-9814 x 200
press@cloudfolios.com