Running a CloudExhibit™ as an Art Organization, Exhibit Organizer, or Artist
Published on Thursday, June 11, 2020 by CloudFolios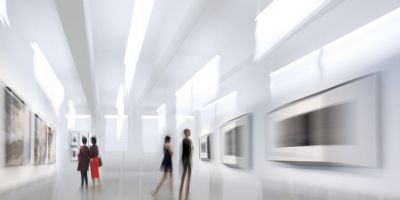 CloudFolios is the only platform in the world that allows for such a robust online art exhibit we call a CloudExhibit™. With CloudExhibit™, you can organize a call to artists, accept online submissions and submission fees, curate the submissions with one or many curators, communicate with submitting artists, finalize the accepted and rejected submissions, and publish the entire exhibit online in our CloudExhibit space.
This is not the usual thumbnail gallery or awkward virtual reality app visitors must download. Instead, it works through a simple web browser, exhibits the work in a vibrant, flexible space, allows for live online sales, solicits visitors for subscriptions and art reviews, allows all visitors to chat live, supports video and audio by artists to explain their work, and much, much more.
FOR ARTISTS TOO! Artists can also host their own solo CloudExhibit™, featuring their own work with all the same features and benefits. All the features of CloudExhibits is included in our Exhibit Membership for a single monthly fee for unlimited CloudExhibits.
How to Create a CloudExhibit™
Step 1: Create an Account
In order to create a CloudExhibit™, you must join CloudFolios. Joining is fast and free. Go here to get started:
Step 2: Upgrade to the Exhibit Membership Level
Only our Exhibit members have access to CloudExhibit™. They are actively exhibiting emerging and professional artists as well as galleries and museums. The monthly fee for Exhibit is $49 per month, and includes every feature CloudFolios has to offer, including unlimited exhibits per month. You can host your own shows as an artist or complete calls to artists for online and offline exhibits.
To upgrade, simply visit your profile from within your CloudFolios.Com account and scroll down to the Subscription Level area. Choose the Exhibit level and fill in your credit card information for monthly billing. Your membership will be prorated for the month and billed monthly after that.
Step 3: Create Your Exhibit
Next, click on the EXHIBITIONS link on the left side menu within your CloudFolios account. Art organizations and exhibit organizers can optionally switch their dashboard to use the ART ORGANIZATION DASHBOARD by using the dropdown at the top right of your main CloudFolios account dashboard, just after signing in.
Click on the ADD AN EXHIBIT button and fill out the information requested. If you are going to have an artist call, be sure to open submissions and choose from the options in the Call to Artist Settings. Also, be sure to choose the options within the CloudExhibit™ Settings area. Once you save the event, upload a promotional image to make your promotion page look amazing.
Finally, click on the MANAGE / CURATE SUBMISSIONS button and add yourself and any other CloudFolios members who will be helping you to curate your exhibit.
Step 4: Add Artwork to Your Exhibit
For art organizations and exhibit organizers, make note of the EVENT PAGE address and promote that address to your artist community, social media, and e-mail lists. This is the address they will go to submit art. Every time an artist submits their work, CloudFolios will process the information, charge any submissions fees that apply, and notify you of the new submissions. All submissions will go into an approval queue where you and your fellow curators can score, accept, and reject submissions for your show.
For artists running their own CloudExhibit™, you will add artwork from your main CloudFolios Dashboard. Upload or search your artwork for the work you want to include in your exhibit and click on the PLUS symbol on the image of your artwork within its folio. Do this for all work you want to include, then click on the MANAGE WORKING BATCH icon at the top of your dashboard. You will see all works you selected. Under the BATCH ACTIONS section, choose the action ADD TO AN EXISTING EXHIBIT, then choose your exhibit from the dropdown that appears to the right. Finally, click the PROCESS BATCH button.
Step 5: Finalize Your Exhibit
For both organizers and artists, return to your exhibit's submissions when you are certain you have accepted all the work that you want in your exhibit (be sure to switch your view to ACCEPTED SUBMISSIONS), switch your viewing option to ACCEPTED SUBMISSIONS, and finalize your selections by clicking on the FINALIZE SELECTIONS button to the right.
This will provide you with an array of new options for venue-based exhibits as well as access to your CloudExhibit™ space. Visitors will not be able to access your CloudExhibit™ until the start time, but you will be able to preview and explore immediately.
Congratulations!
You've created your first CloudExhibit™. As an Exhibit member, you can create as many exhibits as often as you'd like. Now, go and share art with the world!